Product Summary
The AQW214S is a Solid State Relay. Application areas of the AQW214S include Telephones, Measuring instruments, Computer.
Parametrics
AQW214S absolute maximum ratings: (1)LED forward current: 50 mA; (2)LED reverse voltage: 5 V; (3)Peak forward current: 1 A; (4)Power dissipation: 75 mW.
Features
AQW214S features: (1)2 channels in super miniature design; (2)Tape and reel; (3)Controls low-level analog signals; (4)Low-level off state leakage current.
Diagrams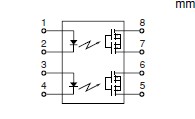 Image
Part No
Mfg
Description
Pricing
(USD)
Quantity

AQW214SX

Panasonic Electric Works

Solid State Relays 400v 100mA SOP Form A Norm-Open

Data Sheet



AQW214SZ

Panasonic Electric Works

Solid State Relays 400v 100mA SOP Form A Norm-Open

Data Sheet



AQW214S

Panasonic Electric Works

Solid State Relays 100MA 400V 8PIN DPST

Data Sheet



| | |
| --- | --- |
| 0-1: | $5.44 |
| 1-25: | $4.98 |
| 25-50: | $4.45 |
| 50-100: | $3.78 |