Product Summary
The TPS767D301PWP is a voltage regulator. The TPS767D301PWP can be used in any mixed-output voltage application, with each regulator supporting up to 1 A. Dual active-low reset signals allow resetting of core-logic and I/O separately. The TPS767D301PWP is offered in 1.8-V, 2.5-V, and 3.3-V fixed-voltage versions and in an adjustable version programmable over the range of 1.5 V to 5.5 V). Output voltage tolerance is specified as a maximum of 2% over line, load, and temperature ranges. The TPS767D301PWP family is available in 28 pin PWP TSSOP package. They operate over a junction temperature range of -40℃ to 125℃.
Parametrics
TPS767D301PWP absolute maximum ratings: (1)Input voltage range, VI: -0.3 V to 13.5 V; (2)Input voltage range, VI (1IN, 2IN, EN): -0.3 V to VI + 0.3 V; (3)Output voltage, VO (1OUT, 2OUT): 7 V; (4)Output voltage, VO (RESET): 16.5 V; (5)Peak output current: Internally limited; (6)ESD rating, HBM: 2 kV; (7)Continuous total power dissipation: See dissipation rating tables; (8)Operating virtual junction temperature range, TJ: -40℃ to 125℃; (9)Storage temperature range, Tstg: -65℃ to 150℃.

Features
TPS767D301PWP features: (1)Dual Output Voltages for Split-Supply Applications; (2)Output Current Range of 0 mA to 1.0 A Per Regulator; (3)3.3-V/2.5-V, 3.3-V/1.8-V, and 3.3-V/Adjustable Output; (4)Fast-Transient Response; (5)2% Tolerance Over Load and Temperature; (6)Dropout Voltage Typically 350 mV at 1 A; (7)Ultra Low 85 mA Typical Quiescent Current; (8)1 mA Quiescent Current During Shutdown; (9)Dual Open Drain Power-On Reset With 200-ms Delay for Each Regulator; (10)28-Pin PowerPADE TSSOP Package; (11)Thermal Shutdown Protection for Each Regulator.

Diagrams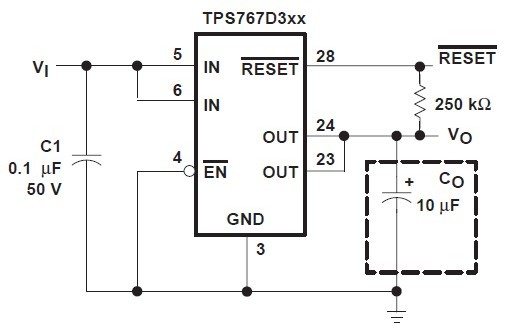 Image
Part No
Mfg
Description
Pricing
(USD)
Quantity

TPS767D301PWP

Texas Instruments

Low Dropout (LDO) Regulators Dual-Output LDO Voltage Regulator

Data Sheet



| | |
| --- | --- |
| 0-1: | $3.47 |
| 1-25: | $3.17 |
| 25-100: | $2.54 |
| 100-250: | $2.21 |


TPS767D301PWPG4

Texas Instruments

Low Dropout (LDO) Regulators Dual-Output LDO Voltage Regulator

Data Sheet



| | |
| --- | --- |
| 0-1: | $3.67 |
| 1-25: | $3.41 |
| 25-100: | $2.54 |
| 100-250: | $2.21 |


TPS767D301PWPR

Texas Instruments

Low Dropout (LDO) Regulators Dual-Output LDO Voltage Regulator

Data Sheet



| | |
| --- | --- |
| 0-1: | $3.13 |
| 1-25: | $2.55 |
| 25-100: | $2.46 |
| 100-250: | $2.22 |


TPS767D301PWPRG4

Texas Instruments

Low Dropout (LDO) Regulators Dual-Output LDO Voltage Regulator

Data Sheet



| | |
| --- | --- |
| 0-1335: | $1.62 |
| 1335-2000: | $1.56 |